The Northeast PA Healthcare Industry Partnership is holding a Virtual Healthcare Industry Roundtable on Wednesday, January 25th, at 8:30 AM. The discussion is focused on the Pocono Counties region (Carbon, Monroe, Pike, and Wayne), and will include healthcare industry discussion, identify common needs, and discuss next steps in creating opportunities through collaboration within the Healthcare Industry. This roundtable is being held exclusively for Healthcare Employers within the Poconos.
If you are interested in attending the Healthcare Roundtable, please RSVP at:  shellen@pcwia.org or Contact Us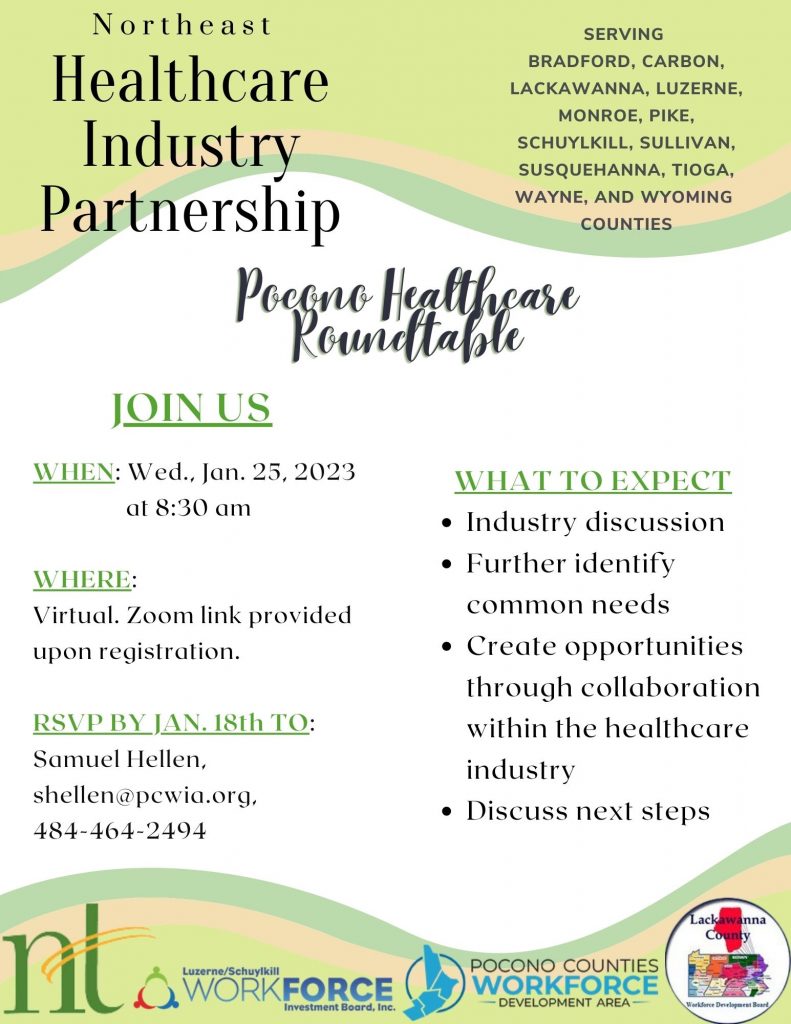 The Northeast Healthcare Industry Partnership is brought to you by the Norther Tier, Luzerne-Schuylkill, Pocono Counties, and Lackawanna County Workforce Development Areas, serving Bradford, Carbon, Lackawanna, Luzerne, Monroe, Pike, Schuylkill, Sullivan, Susquehanna, Tioga, Wayne, and Wyoming Counties.
Industry Partnerships help businesses with the following priorities:
Identifying their workforce, education & training, and economic development needs
Coordinating regional support teams
Identifying public and community resources
For More information on PA Industry Partnerships: Industry Partnerships